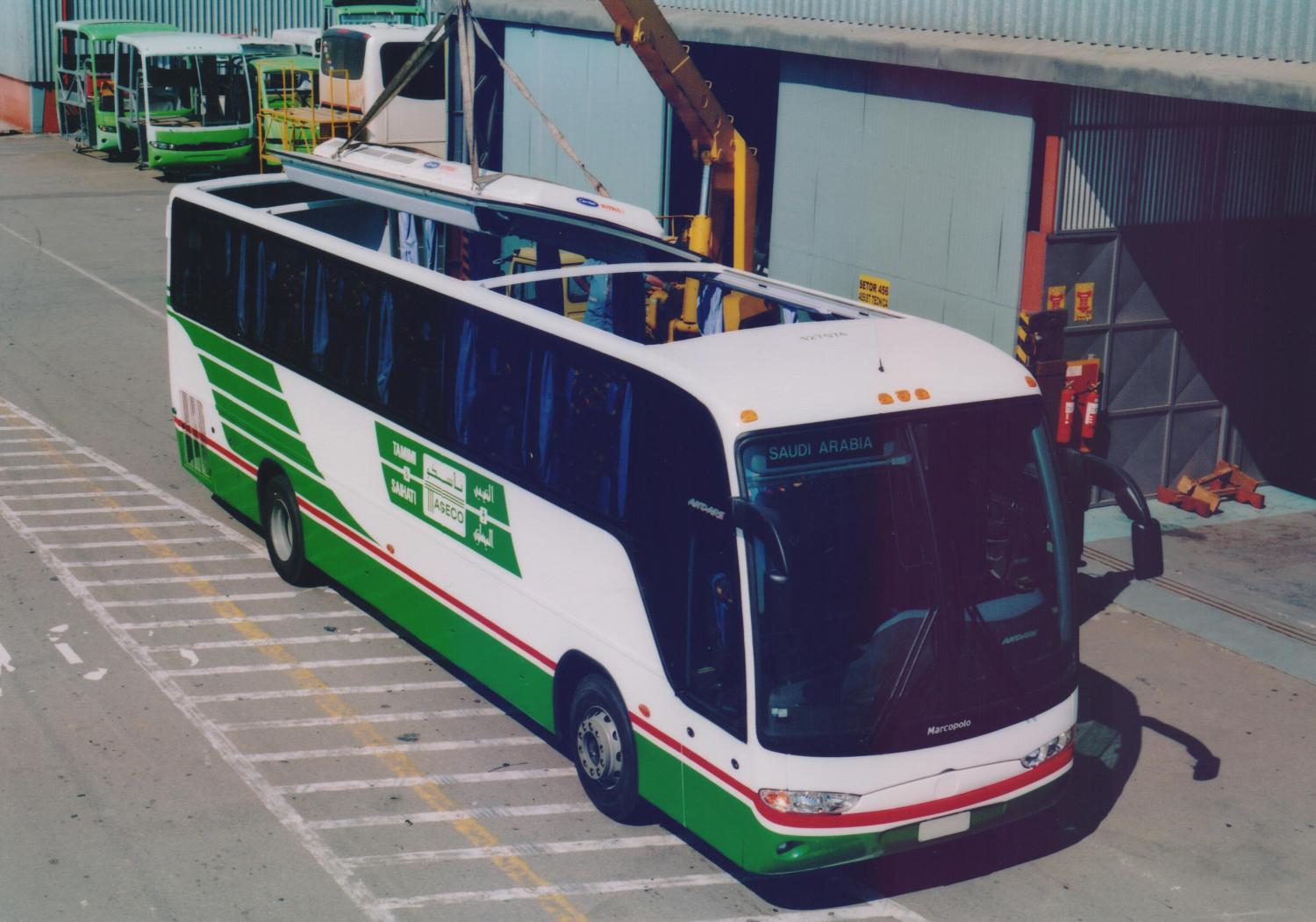 In the 30 years since the first Volkswagen bus chassis was made available on the market, the Volksbus line has gathered several remarkable moments and has many stories to tell. Among them is the emblematic export of 700 charter buses to the customer Tamimi & Saihaati Transport Company - TASECO in Saudi Arabia between 2001 and 2004. These buses were specially customized for the demands of the West Asian and North Africa market. For a portion of the exported lot, the main detail was in the buses' body: eighty Volksbus 17.240 OT were fitted with a detachable roof.
In partnership with Marcopolo, this bus body solution was designed for practitioners of the Muslim faith, who perform an important ritual known as the "Hajj" – an annual pilgrimage to the holy cities of Mecca and Medina. Along these sacred routes, there can be no obstruction between the heads of certain pilgrims and the sky. The assembly process was attended tby Volkswagen employees from the Engineering, Manufacturing, Quality Assurance and Export departments, who accompanied the entire bus assembly process and assisted with inspections.
"The transportation of pilgrims involves very complex logistics and everything must go according to plan, otherwise there is a risk of compromising their arrival in the holy cities of Mecca and Medina. Volkswagen buses have proven to be reliable, offer consistent speeds and require simple maintenance. Ensuring that this customized export was a success involved a high-level commitment from the employees, which made the assembly process possible. The remarkable efforts made by those involved allowed the chassis to be assembled and cleared for export to the Middle East", recalled Ivan Ryzyk, a product analyst at VWTB and who was in Saudi Arabia at time and participated in all stages of the export process.
More than 40,000 km in testing
The Volksbus acquired by TASECO represented the largest number of vehicles exported to the region during that period. "We completed test runs in several cities around the country, facing sandstorms and temperatures that reached over 50 degrees. We traveled more than 40,000 kilometers through Saudi Arabia along different routes without any kind of guide or help from any local residents, which meant that testing ended up becoming an adventure for us too", Ivan added.
In addition to including a series of technical changes that focused on the country's climatic conditions, which involve extremely high temperatures, the vehicles were equipped with a new cooling package and specially made tires. They were also shipped with parts that met design requirements and included translations of labels and onboard literature into the local language.