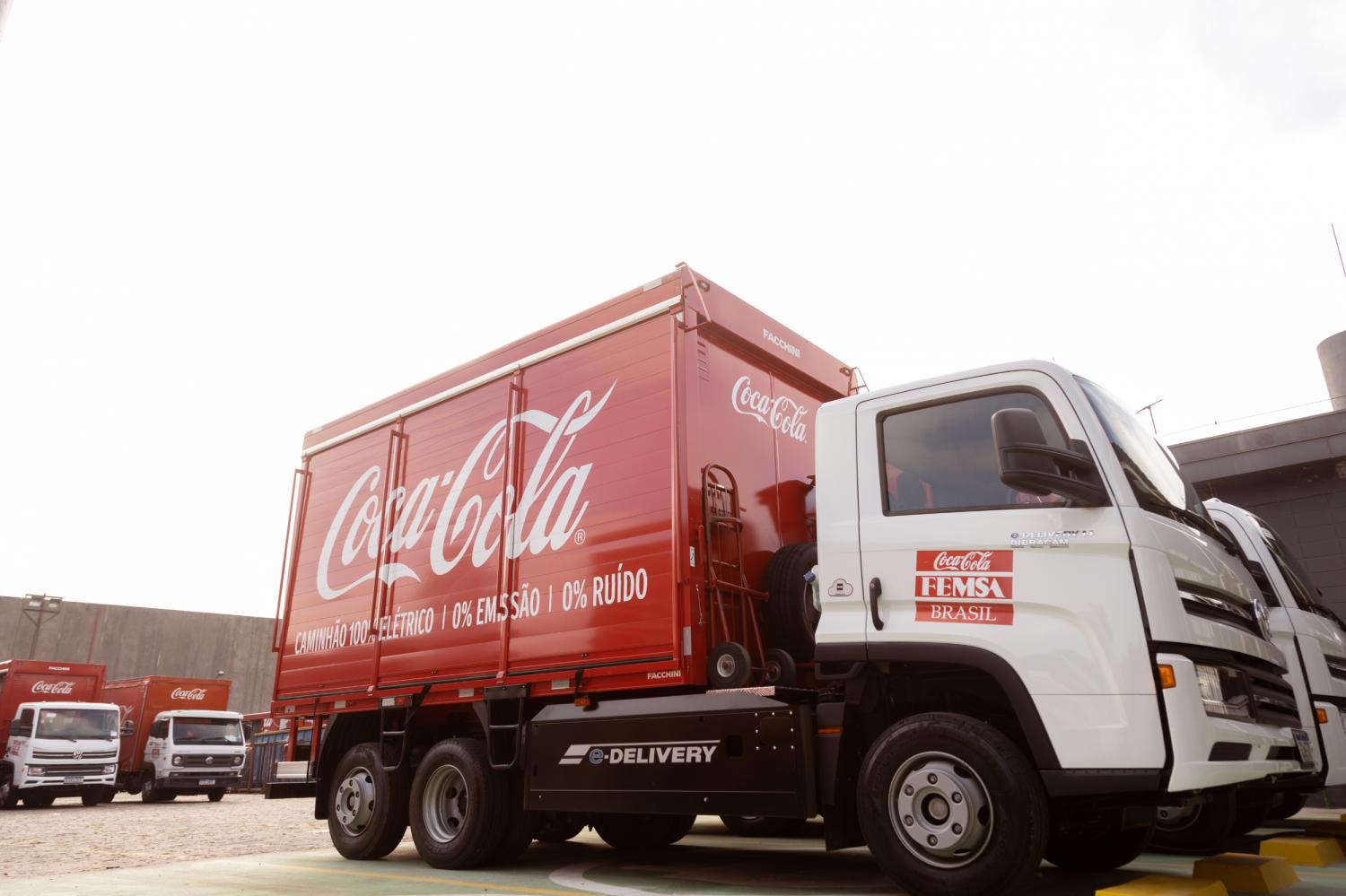 Coca-Cola FEMSA Brasil is operating with its Volkswagen electric truck fleet for the distribution of beverages in the metropolitan region of São Paulo. There are 31 e-Delivery vehicles aimed at serving the distribution centers of Jurubatuba, Osasco and Ipiranga. In addition to the low environmental impact, with zero emission of pollutants, other expected benefits are the reduction of noise in the city, the reduction of generation of other waste, the savings per kilometer traveled and the low maintenance cost. The operation with the new models is also an important advance in the company's ESG agenda.
"We always seek innovative solutions to meet society's expectations regarding environmental issues. We have innovation in our DNA and this characteristic motivated us to have an electric fleet operating in Greater São Paulo, a result of the continuous investment in sustainable operations and solutions that contribute to the reduction of pollutant emissions throughout the chain", says Ian Craig, CEO of Coca-Cola FEMSA Brasil.
For Volkswagen Truck & Bus, this is also the way. "We have taken on this mission of transforming the transportation industry and electric mobility is among the solutions we believe in. Increasingly, companies like Coca-Cola FEMSA Brasil will accelerate this journey along with us. This second closed lot, even before the vehicles start operating, proves that we have great partners by our side", says Roberto Cortes, president and CEO of Volkswagen Truck & Bus.
Compared to diesel trucks, electric trucks can reduce carbon emissions and benefit the environment. With an average autonomy of 110 kilometers, the vehicles are recharged at night in the distribution centers, where civil works and modifications of facilities were carried out.
"Sustainability is at the heart of Coca-Cola FEMSA Brasil's actions. The investment in electric trucks is part of a broad strategy that, among other solutions, seeks to mitigate the impacts on the environment, generating a significant reduction in the emission of pollutants", highlights Camila Amaral, Legal and Corporate Affairs VP of Coca-Cola FEMSA.
State-of-the-art technology is one of the added advantages. All vehicles are connected with cloud performance data and the RIO e-Fleet management package, which enables real-time monitoring of vehicle and driver performance, ensuring transport safety. One of the great assets is the engine regeneration system, which has about 100 sensors and new electronic controls that use brake friction and speed reduction as a power source to give extra charge to the batteries, capable of recovering 40% during braking to make the vehicle more efficient.
With thorough calibration for severe operations, the engine also delivers 300 KW and 2,150 Nm (nanometers) torque from the first revolutions. The air suspension allows to suspend one of the axles to generate even more savings in operation.
"This is our commitment: to offer complete and high-tech solutions to support our customers on their journey to a more efficient and sustainable operation. We are taking our Volkswagen electric truck to other countries and we will increasingly move forward in this strategy", said Ricardo Alouche, vice president of Sales, Marketing and Services at Volkswagen Truck & Bus.
ESG strategies and actions
Coca-Cola FEMSA Brasil is committed to reducing greenhouse gas emissions, in line with the guidelines of SBTi (Science Based Targets), an initiative of the United Nations Global Compact and other science-based institutions to reduce emissions of pollutants that cause the greenhouse effect. To this end, the "Climate Change Committee" was created, directed at studying, monitoring, and implementing strategies to reduce emissions from its operations. As a result, the company has expanded the use of electric forklifts with low energy consumption and high load capacity.
Another front concerns water management: all factories have a system for monitoring, using and reusing the input. From the point of view of waste management, sustentaPET, a pioneering initiative for post-consumer waste collection, created by Coca-Cola FEMSA Brasil, in partnership with Coca-Cola Brasil, stimulates the circular economy by generating income for waste pickers, recyclers and cooperatives, boosting the PET recycling chain. Since the start of operations, which have more than 160 partners, 2.8 billion PET bottles have been recycled.