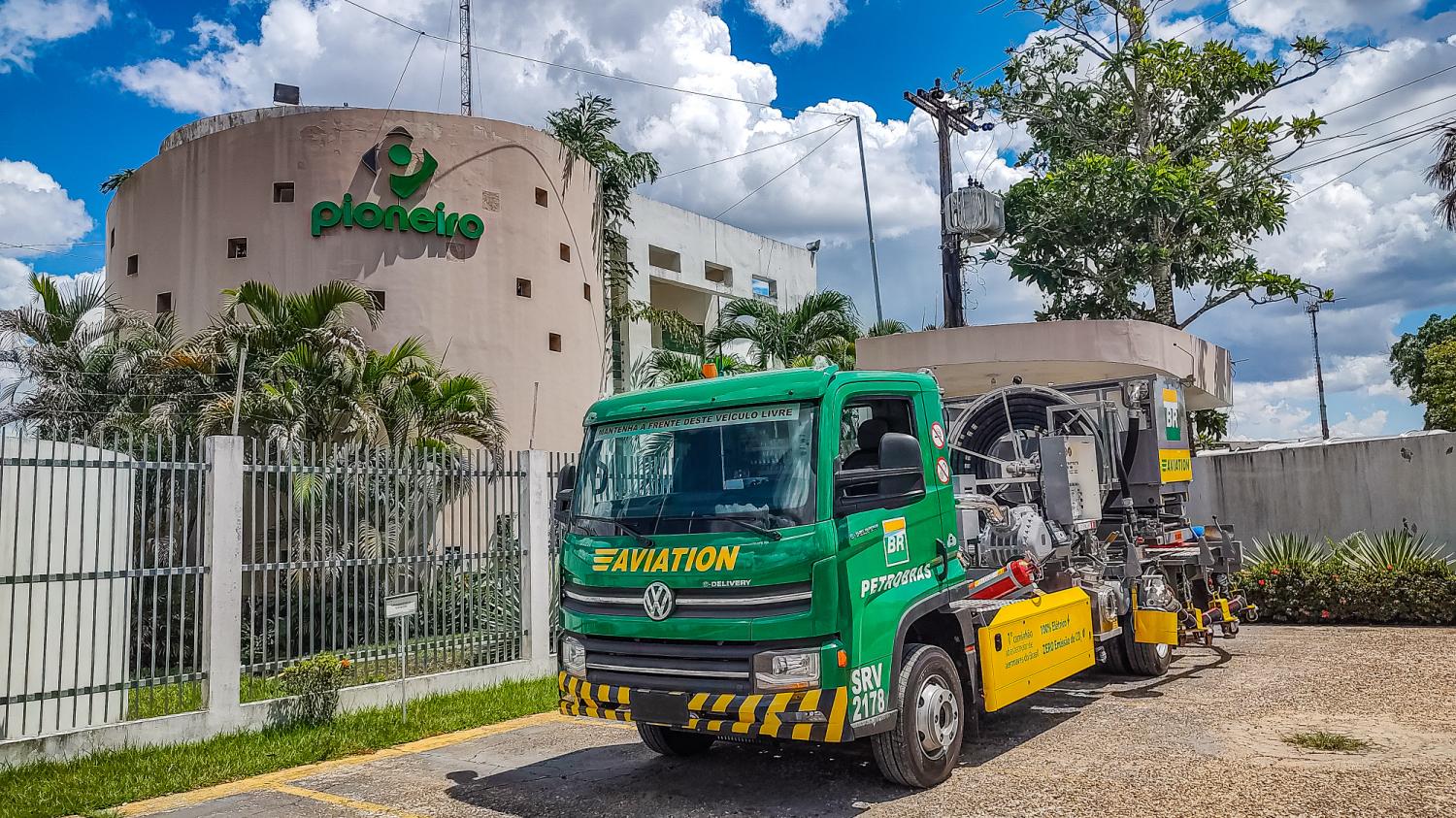 The Eduardo Gomes International Airport in Manaus, in the heart of the Amazon Region in Brazil, is the first in Latin America to have a 100% electric, zero-emission aircraft fueling truck. Thanks to the partnership between Pioneiro Combustíveis, BR Aviation (business unit of Vibra Energia and licensed brand of Petrobras) and Volkswagen Truck & Bus, after a period of testing and training of the company's employees, the Volkswagen e-Delivery truck will take Jet-A to BR Aviation customers at the international airport of Manaus, in Brazil. The electric vehicle starts to operate fully as of December 12.
The main goal of this union is to enhance the decarbonization of the aviation segment and also help promote the development of the Amazon Region, in line with the strategic guidelines of BR Aviation and Pioneiro, to focus on business focused on the transition towards cleaner and renewable energy sources. The initiative opens an immediate possibility, of rapid adoption, to reduce the impact of the aviation sector on global warming.
"We know that the transformation of aircraft, whether to use green fuel or electricity, will still take some time. The electric truck is a result of the search for solutions already available, with proven effectiveness and economic and operational viability to reduce emissions right away," says Lindi Tambke, CEO of Pioneiro Combustíveis.
Aviation is responsible for about 3.5% of human contribution to global warming, according to a 2020 study conducted by Manchester Metropolitan University, published in the journal Atmospheric Environment. By starting to adopt electric trucks for refueling, BR Aviation and Pioneiro Combustíveis anticipate one of the goals of the SustenAr program, launched by ANAC (National Civil Aviation Agency) to stimulate improvements in environmental aspects in Civil Aviation. The program foresees, as one of the ways to stimulate sustainable solutions, the substitution of fossil fuels in the ground airport fleet.
"Starting an innovative operation, with great potential for transformation in the sector, is the realization of a dream. We are passionate about the Amazon region and know the great potential for repercussion of the initiatives implemented here. We have our operational base in Manaus, and we want to prove that, if it is possible to innovate in the
heart of the forest, this is also possible in large urban centers", explains Rolf de Sousa Tambke, Director of Operations at Pioneiro.
So that the electric truck could start operating, EZVolt installed at the Manaus Airport an charger with 1 CCS-2 recharging point, with an output power of 24 kW in direct current, which allows 80% of the truck's battery to be charged in up to three hours.
This partnership is strategic, since it is the first operation of an electric truck in Latin American aviation. The environmental benefits are clear with the ample elimination of CO2 and other exhaust particles, contributing to a less noisy and more sustainable working environment in airports. It is a performance model with the potential to impact the segment's entire supply chain.
"The arrival of the electric truck is a seed for the creation of a network of renewable sources. I can already see the airport courtyards full of electric trucks. Besides contributing to the decarbonization of aviation, these trucks will make BR Aviation provide an even better service to its customers," says Rodrigo Mota, director of aviation at Vibra.
Innovative partnership
The adoption of electric vehicles for fueling by Pioneiro Combustíveis arose from a round of exchange with European companies that operate in airport services. To create a genuinely Brazilian version of this technology, Pioneiro Combustíveis joined Vibra and Volkswagen Caminhões e Ônibus, which already has on the market the e-Delivery urban delivery vehicle, which brings together ideal features for airport services. The adopted model is the e-Delivery 11, with capacity of 11.4 tons and comes equipped with a traction motor with power of 300 kW, three LFP battery modules with 105kWh total, capable of providing autonomy of up to 110 km.
It also has the e-PTO system, which makes an electric power outlet available, capable of supplying the power required for the e-PTO engine to drive the fuel transfer system pump. This truck, which is the first electric truck 100% developed and produced in the country, brings state-of-the-art onboard technology to ensure high levels of comfort, efficiency, and productivity on board, besides meeting all safety requirements.
"We developed a versatile truck, which adapts to the most different operations, such as this one in which we innovate in fuel transportation together with important partners such as Pioneiro and BR Aviation, while supporting our customers in their journeys towards growing sustainability. Our vehicle brings a series of solutions 100% created for the reality of the application in our country and other
emerging markets to thus offer the best operational cost", says Ricardo Alouche, vice president of Sales, Marketing and Services at Volkswagen Truck & Bus.
The operation of an electric vehicle to fuel aircraft makes the Eduardo Gomes International Airport a reference of sustainable actions in Latin America. "We were very pleased to receive the first electric truck here in Manaus and even more pleased to know that a partner as important as Pioneiro is aligned with our purpose of decarbonizing aviation. The Amazon Airports Concessionaire has the goal of zero net carbon emissions by 2050 and, for that, we will need innovative initiatives like this one from BR Aviation and Pioneiro", said Karen Strougo, CEO of Concessionária Aeroportos da Amazônia, administrator of Manaus Airport in Brazil.
Brazilian technology
The VW truck that Pioneiro Combustíveis and Vibra are implementing at Manaus International Airport has a high content of national components, which contributes to the maintenance and operating costs of the electric model are an extra attraction, because they are lower than a diesel model, for example. With more than 350 units sold, the e-Delivery is a reference in the national maret, developed by Brazilian engineering and tested with the most rigorous criteria.
"This is an important step that Vibra and partners are taking in pursuit of Net Zero in their operations. The aviation market has the challenge of reducing its carbon footprint and actions such as the development of the Electric Server help in this direction, with the assurance that all standards and norms of operational control that characterize the excellence of our operations are being met," said Guilherme Paiva, director of operations at Vibra.
Each electric truck can remove from the atmosphere about 15 tons of CO2 per year, which would be equivalent to the neutralization provided by more than 50 trees in the same period. The operation of an electric vehicle is simpler, with greater energy efficiency (a significant savings compared to a diesel vehicle) and lower maintenance cost. The high level of on-board technology allows the monitoring of all the vehicle's details, such as wear and tear, hours of use, and possible technical problems.
"We had safety as a first condition, and we quickly realized that the technology is highly secure and reliable. We are confident that the experience and knowledge we are producing in Manaus can benefit, initially, the adoption of similar solutions in the North region and, soon, all airports in Brazil and the Americas," highlights Rolf de Souza Tambke, Director of Operations at Pioneiro.
ABOUT PIONEIRO COMBUSTÍVEIS
Pioneiro has more than 30 years in the sector and is one of the leaders in supply and logistics. Innovation, respect for the environment and commitment to the sustainable development of the communities where it operates are priorities for the company, which is present in 11 states, with 32 branches. Manaus is the company's headquarters and its main operational base.
ABOUT BR AVIATION
BR Aviation is the leader in the Brazilian market of aviation fuel distribution, with almost 70% of market share. It is present in about 90 airports throughout the country, with a portfolio of more than 2,200 active customers, supplying aviation kerosene. In 2021, it performed an average of 52 K aircraft fueling operations per month.
BR Aviation customers have JET A (aviation kerosene) and Jet-Plus (aviation kerosene with additives), which can also be loaded in bulk at Vibra's bases. Fueling is performed by highly trained and annually certified teams to meet international industry standards. Services such as unblocking and electronic scheduling are also offered.
ABOUT VW TRUCK & BUS
Part of the TRATON Group, Volkswagen Truck & Bus offers a complete portfolio of solutions for the transporting of cargo and passengers and is one of Latin America's largest vehicle assemblers. Brazil is home to the global research and development center of the VWCO brand, with expertise in emerging markets for vehicles tailored to the specific demands of its customers.
Since 1981, when VWTB first started its operations, the company has outpaced competitors on the marketplace. Meeting the needs of clients by offering the most ideal cost-benefit ratio has always been the assembler's main focus. And that's precisely what VWTB offers: customized trucks and buses, excellent after-sales service, and an extensive range of available services, com uma rede de concessionárias altamente capacitada inclusive para a eletromobilidade.